What's New in Dewatering Sludge
Many have noted that a geotextile dewatering bag functions like a three stage belt press - only without the much larger capital investment. In this situation, the utilization of the geotextile dewatering bags (bags) therefore promise a quick relief from the overhanging volume of sludge. Typically three phases of tests are performed. Each phase of tests narrow the required operating conditions. From the earlier jar and bucket tests, the third phase of testing with the actual bags, almost always confirm the anticipated performance. From the bag volume, adequate performance should be obtained with the anticipated application rate and within the expected range of the solids content.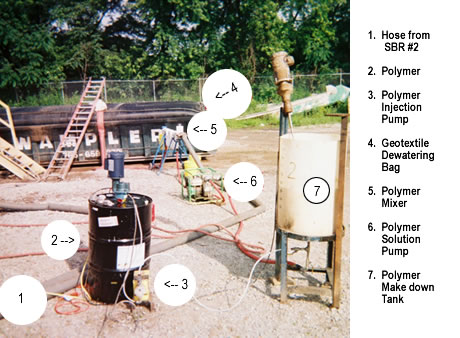 Are There Industrial Experiences
In one industrial case, the influent was coagulated with alum, mixed and slowly piped, and then flocculated with a cationic polymer. The respective dosages were about 1000 ppm of alum (Aluminum Sulfate) and 750 ppm BRT 4917 cationic polymer (equivalent to GE Betz Novus CE 2680). Inverse of the previous dewatering experience with influent into bag, the coagulated and flocculated solids floated and a clear filtrate formed the bottom layer. For this recent industrial development, all components for the testing were expedited.